Tweet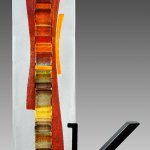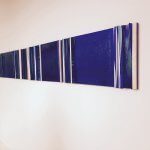 Alicia Kelemen-K4 Glassart exhibiting with Anne Jerman
Alicia developed her work by using different designs,techniques and materials that showcase the desired optic effects,forms,colors and textures, in a wide array of Art for the Wall, standing Sculptures and Judaic Art. Highly influenced by her Architectural backgrounds, her designs tend toward geometrical forms and pure lines.
The work of Alicia is represented worldwide in fine art and museum collections. The White House, Denmark Glass Museum permanent collection, The Bolivar Hall in the United Kingdom, The Juan Pablo II Cathedral in Venezuela, the King of Jordan, Arnold Schwarzenegger,and Gerald Cartesian-all own Kelemen Kuatro pieces.
Visiting artist exhibiting at Anne Jerman.
411 Periwinkle Drive
Asheville, NC
828-380-0895
http://www.k4glassart.com
kelemenkuatro@k4glassart.com